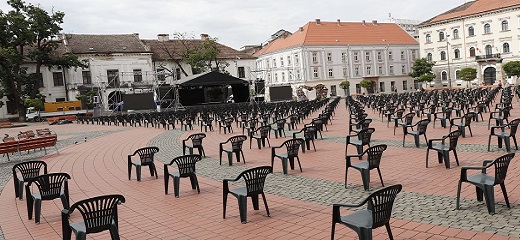 For musicians in our recovering society, the unescapable truth is that gigs are few and far between. Orchestral musicians are focusing on teaching via online learning platforms (OLPs) while intermittently recording solo performances for transmission by concert halls. Ireland's folk musicians have engaged in a new form of the Céilí House tradition by broadcasting from their homes – the Whileaways ran a Sunday evening series with two members of the trio broadcasting from their home for an hour and their third band-mate broadcasting from her home via Facebook. The Scottish musician Dougie MacLean, famous author of the adopted Irish folk ballad "Caledonia" has also spent his Sunday evenings performing with his scarecrow as a bandmate from his home in Scotland. Arts centres like the Séamus Ennis Arts Centre and the Duncairn in Belfast have also acted as hosts to transmit these online gigs live.
In each case, the musician continues to engage in their chosen genre and continues to connect with their usual audiences. What will be interesting, as we move into the new phases of the Government Roadmap, will be how such musicians cope with Social Distancing. Pubs will not, initially at least, be hosting live music. Small concert venues and local concert halls will have to evaluate the economics of the capacity of their venues, as permitted under Social Distancing Procedures, versus the ability to ensure the ticket price can cover the costs of a performance. Artists will also have to give due consideration to social distancing on stage. The effect will, for some time at least, lead not only to smaller gigs, but to smaller ensembles. While such a requirement will not be a challenge for many folk musicians, it will be a significant challenge for musicians in a variety of genres – not least the orchestral musicians in Ireland.
Mantle Hood posited the 'challenge' of bi-musicality in 1960 – the concept that a musician could undertake the challenge of developing an aptitude for a secondary musical style through active engagement in a secondary culture. This research was taken in a new, and economically interesting, direction by Stephen Cottrell in 2007 when he compared musical genres from a number of qualitive perspectives including the perception of which genres garnered the most esteem among listeners against how lucrative such performances were. In short, Cottrell observed that Orchestral Performance was the ideal balance of respectability and profitability while 'pub jazz' fell below the median of each of these factors.
The problem for our musicians, however, is that the economic value as described by Cottrell is about to turn on its head. As social distancing measures promulgate, opportunities for orchestral musicians are going to be more challenging to secure. It would appear logical that the most economic performances will involve the fewest musicians to be paid in a setting where social distancing measures will not require too much of a ticket-price increase to compensate for smaller audiences.
The concept of a 'new normal' is, for many, a daunting one as we pine for what many of us perceive as the 'appropriate normal'. Nonetheless, we must accept that, for the moment at least, we must compromise in order to adapt to the ongoing restrictions on the arts. Cottrell references both Hood's concept of 'bi-musicality' and Mark Slobin's socio-linguistic concept of code switching, where a musician can 'switch' between styles. My own research seeks to establish how styles and genres can co-exist and interact within the individual identity of each given musician and their development as they engage in new and diverse styles. Nonetheless, Cottrell's research notes one of the challenges in moving toward this perception – the class structure inherent in the certain musical cultures. Orchestral musicians are as conscious of cultural etiquette, including dress codes and traditions in regards to 'clapping between the movements' as well as technical etiquette which can make engaging in music-making in other styles complicated. The technique required to develop into an accomplished Orchestral player can be inimitable to playing other musical styles. Even the language used by musicians of different genres can cause confusion – a jazz musician improvises, a musician from the Western Art tradition extemporises.
As each musical genre has its own individual set of values and, in many instances rules (explicit and implicit) a musician is often required to conform to that social setting. This requires a knowledge of the values and rules so that a musician may engage with, and be inducted by, the group of musicians already extolling the desired genre. As a society, music audiences will soon face the challenge of investing in tickets for a new style of performance. In order to ensure a breadth of musical opportunities, musicians will be challenged to move outside of the 'comfort-zones' inherent in their current careers. Perhaps Ireland will see a surge in chamber music performances rather than full orchestral performances. Perhaps also, rhythm (backing) musicians in larger jazz ensembles, such as guitar or piano players, will develop new solo repertoires. Choral singers may form smaller ensembles. In this regard, it would appear an ideal time to re-examine Joshua Rifkin's contention from the 1980's that Bach should be sung one voice per part (OVPP), an often controversial contention among music scholars.
In any event, musicians will be re-evaluating their performance practice over the coming months and, while the circumstances which require this re-evaluation are grave, we may be reminded of the contention that the Chinese word for "crisis" is composed of two Chinese characters signifying "danger" and "opportunity" respectively. The limiting nature of social distancing presents an impetus for musicians to re-examine their performance practice in fundamental ways and this "opportunity" may present us with interesting, and remarkable, developments in music performance and music culture generally.